Australian Birds
With an emphasis on the Central Coast of NSW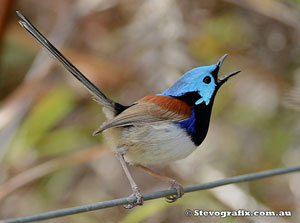 This page has snowballed. Originally I was trying to photograph 100 birds on the Central Coast of NSW by 2014. I joined Birding NSW and reached my target in late February 2013 then decided that I would try for more.

I am now a member of Birdlife Australia, the NSW Bird Atlassers and Hunter Bird Observers Club. I supply images to these organizations for educational purposes copyright free.
This is a conglomeration of all birds found in Australian Field Guides that I have photographed in the wild since Sept 2012.
Several images on the pages below need better photos and some require additional photos of both sexes where applicable. Updated photos or new species will be added time permitting.
Birds in Captivity
The following are captive birds, and my "wish-list" to photograph in the wild.
Black-Cockatoo, Carnaby's - Reptile Park Somesby, NSW
Cassowary, Southern - Reptile Park Somesby, NSW
Parrot, Eclectus - Private pet
Parrot, Elegant - Reptile Park Somesby, NSW